So this is my first time trying my hand at 55 fiction. I saw it at a few sites recently, and loved the idea of it. So, I thought, "Why not give it a try?". Those of you who know me and my writing can guess what a challenge it was to limit myself to exactly 55 words. Not an easy matter, I tell you. But still, I don't think it turned out too bad, do you?
On Giving
The hairdresser braided her long hair and stood back. "Ma'am, it looks so beautiful!"
Seema's face twisted with emotion.
"Are you sure, ma'am?"
She looked at the Locks of Love* poster in her hand.
"Yes."
The snip-snip of the scissors reached her ears.
She thought, "I hope this brings joy to another girl with cancer."
***
On Fulfillment
I had turned around, and as the sun glinted off the hip length, blue-black hair, I was caught.
Now, she came, her hair in an intricate braid over her shoulder, with flowers woven through.
Light played across her face and hair, lending her a soft glow.
We smiled. She was mine at last. My bride.
***
On Love
"Mummy, your braid is so soft. Sleep comes easier holding it."
Her husband came in. "Come, I'll sit with him. You'll get a crick in your neck from bending like that."
"No, I'm fine here."
She looked down at her son, sleeping peacefully, for now.
"Let me make it easier for him while I can."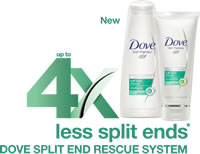 This post is an entry for the 'Beautiful Ends To Your Beautiful Braids' contest, powered by Indiblogger, in collaboration with Dove Split Ends Rescue System.
Vote for my post here.
Check out my other entry here.
P.S.: I was going through the other entries, and found that even men are trying out! Wow! Goes to show how universal Dove is (or how men sneak into their wives' shampoos ;) )
* - Locks of Love is a public non-profit organization that provides hairpieces to financially disadvantaged children in the United States and Canada under age 21 suffering from long-term medical hair loss from any diagnosis.