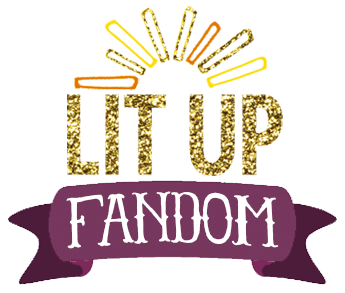 The idea for Lit Up Fandom took root way back in November/December 2013. I remember that there was a lot of talk about starting unique features, how difficult it is to think up of any, and how once you do come up with something no one else has, several copies immediately crop up. It got me thinking. I really, really wanted to come up with something unique like Cee's
You're Just My Type
or Georgie's
Cover Palette
or Amber's
Famous Last Words
, but I simply couldn't think of anything that isn't already out there.
It was around that time that I began putting together the Under The Never Sky Farewell Party, and as I was searching for post ideas, I found so much amazing art by the fans that kind of blew me away. And I was like, wait, how come no one is showcasing this stuff? And thus a seed of an idea was born :D
As much as I wanted to share the art, I was also really interested in talking to the artists themselves because to me, creating fanart for
books
is so much tougher and more complex than doing the same for say, a TV show (not that that isn't tough too. God knows how I struggle to draw a simple face!). Because here, the only prior information you're working with is words, and there's bound to be a difference. I wanted to know how they did it.
But me being me, the idea stayed in my head, where I kept turning it on it's head and trying to figure out how to get this show on the road. Whether to simply showcase the art or do interviews or do both alternatively? And that was how six whole moths went by with me doing nothing. Also (I cant believe I'm saying this out loud. Well, kind of.), I didn't know what the response would be like, and I wasn't all that sure I wanted to find out if it was going to crash & burn. And then came Asti with her awesome ideas and posted
this thing
on coming up with unique features, and how Bookish Games nearly never happened. After reading that piece, I realised that it really wasn't that much of a big deal to start something new, and who knows, people could actually find it fun! (Also, it kind of lit a fire under me because she mentioned fan art, and I didn't want anyone else to grab the idea) Go, Asti! :D
Asti's post couldn't have come at a better time because it was just few weeks later that the Eleanor & Park Special Edition was getting released, with FOUR AWESOME PIECES OF FAN ART! I figured this would be a perfect way to kind of celebrate the release of the book (let's ignore the fact that this is a month late, okay?) and also kick start my new feature at the same time. Pooja @
On Books!
,
Aaliya
(the fandom Yoda) and I came up with the name for the feature after a long brainstorming session which involved some very weird names and fierce competition (dont ask about what). I managed to get hold of three of the four artists whose art is published in the special edition and I asked them a few questions, and HERE WE ARE, PEOPLE!
THE ARTISTS OF THE ELEANOR & PARK COLLECTOR'S EDITION
There are four artists whose works are a part of the special edition of Eleanor & Park by Rainbow Rowell - Andrea Porretta, Lauren Baldo, Melia Parsloe, and Simini Blocker. Scroll down to meet three of the awesome four!
Hey there, and welcome! I'm so happy to have you visiting today! Tell us a little about yourself!
Andiree:
My name is Andrea, but most know me as Andiree. I'm seventeen, young and free. I want to be a graphic artist/illustrator when I grow up. My love is extended towards all things cherry, Greek mythology and expensive shoes.
Lauren:
Hi! My name is Lauren and I'm currently working as a freelance artist from the Philippines. I graduated college with a degree in industrial design, and just recently, I finished a short course in basic pattern-making and sewing. Hopefully, by the end of this year, I will have opened up a shop selling my creations.
Simini:
I'm an illustrator currently working in New York. I'm originally from Texas, but I decided to move out there after graduation to make a go at freelancing. I love the city most days- I'm a huge fan of pubic transport and being able to walk places- and there's pretty much always a library within walking distance. I've wanted to go into illustration since I was in seventh grade and fell in love with the Harry Potter covers (and also doing Harry Potter fan art). I studied illustration at Brigham Young University and afterwards interned for almost a year at Disney Interactive as part of the Visual Development team. Now my focus is art work for picture books/middle-grade/ YA. Hopefully you'll be seeing more of me in the book world!
How did you reading become a part of your life? What do you love about it? What are some of your favourite books?
Andiree:
I did not really enjoy reading until middle school. My love for books occurred when I read Harry Potter--the summer after 6th grade. I wish I could say I grew up with the characters like everyone else, but I didn't; nevertheless, the series had a huge impact on my life. I went on a wild reading frenzy. every story was a new adventure to experience, a sneak peek into another life. It was just...great. I started drawing fan art and appreciating fan art during these years. Some of my favorite novels/series are: Harry Potter, Percy Jackson/Heroes of Olympus, The Summer I Turned Pretty, Dash & Lily's Book of Dares, The Giver, Eleanor & Park (obviously), Water For Elephants, Shiver, and Dear Dumb Diary.
Lauren:
I'd be lying if I said I loved reading since I was a kid. But I loved picture books, mostly because of the art, and that's where my first inspiration to draw came from. It wasn't until college that I really focused my attention on reading.
What I love about reading is that it transports me not just to other places, but also to a certain time and atmosphere that can never be found anywhere else. I love how books move me, how certain feelings rise above the surface only when I'm reading. I'm always thankful to know that there are other people out there going through the same things I go through and that I'm never alone.
Some of my all-time favourite books include The Book Thief by Markus Zusak and The Perks of Being a Wallflower by Stephen Chbosky. The more recent ones include The Chaos Walking Trilogy by Patrick Ness (particularly The Knife of Never Letting Go), The Art of Fielding by Chad Harbach, and Code Name Verity by Elizabeth Wein.
Simini:
I've been a big reader as long as I can remember. I've just always loved being able to get lost in a story and spend time with the characters. I love the way that books can help you connect and empathize with others, or even work out things about your own self, as well as entertain. Some of my favorite books- Eleanor & Park, as well as Fangirl by Rainbow Rowell, The Disreputable History of Frankie Landau Banks by E. Lockhart, Chime by Franny Billinsgley, most everything by Melina Marchetta, The Blue Sword by Robin Mckinley, The Attolia series by Megan Whalen Turner. And on and on and on... Difficult to pick even a few favorites!
How do you translate words into art?
Andiree:
I can't really explain it. I always have an internal movie running through my head. I don't really imagine characters in a realistic way; they always tend to be more...cartoon-ish. My mind likes to exaggerate color and characteristics, and I always tend to relate characters to a person in real life that they remind me of.
Lauren:
The thing about books, and that which we often forget, is that they are also an art form. So whether or not an author gives vivid descriptions of characters, it's still up to us, readers, to interpret them. So that's what I do: interpret them. I don't beat myself up if it doesn't match perfectly to the way characters are described. And anyway, I think it's a universal rule among writers not to give everything away, except to give one or two distinct features. It's also a mark of a good writer when he/she can create characters with very distinct words and actions that you can conjure up an image in your mind, vividly, how they look.
When I translate a character, I try to stay as faithful to the book as possible, but the most important thing is that it's true to me. After all, art is personal.
Simini: Lots of practice really. I have a pretty visual imagination, so when I read I sort of picture it. The difficulty then is training my hand and my eye so I can get it out of my head. I've taken lots of classes and done a lot of painting and drawing from life, which build up the "library" of what I can draw or bring to an illustration. I keep a sketchbook. And then for specific illustrations I gather lots of reference and illustration- whether it be for the lighting, color palette, costumes, characters, or environment- and then I can use that information to inform the final piece. Lots of trial and error, lots of practice. People sometimes look at at artwork as something that only a talented few can do, but really it's a lot of practice and study and work.
Which scene (or anything else too) from the book inspired you to do this piece?
(the E&P one)
Andiree:
My drawing is of Eleanor and Park's kiss, the black and white image. I just...love their relationship. I love how REAL it feels, how paced and nervous and clammy-hands it all is. Their emotions are so unsure and they're both just so conscious of themselves. I want to draw every aspect of their romance, but mostly, I like the parts like this one--"Next time, I'll just say 'Follow me down this rabbithole...'"--where they are both so completely mesmerized by each other.
Lauren:
It was inspired by the line "She never looked nice. She looked like art, and art wasn't supposed to look nice; it was supposed to make you feel something."
You know, it's hard to go back to this book without feeling things so I'll leave it at that lest I pour my heart out unnecessarily.
Simini:
The illustration is of the Christmas Eve scene, when they meet out at the school in the middle of the night while it's snowing, making up after having a bit of an argument. One thing I love about Rainbow's writing is it's very scenic and full of rich detail. There were so many scenes that I felt like I could see perfectly in my head just from reading. I enjoy that part of illustration, trying to translate those pictures created from words out onto paper (or the screen). It's very satisfying, and makes reading, for me, even richer.
How has your style changed over the years?
Andiree:
My style has changed drastically. I tend to be influenced by new artists' styles, so there's always SOMETHING small that I try to incorporate into my own style. Plus, over time I'm bound to improve in my skills.
Lauren:
As a kid, I was heavily inspired by anime shows, and I'm not ashamed to say that it's been my foundation ever since. It was only in college that I was taught how to draw realistic pictures. And while I know how to draw realistic figures, the root of my art is still anime-style. So when I draw, for example, a face, I draw everything else realistically except the eyes, which I modify freely.
Through the years my style has evolved into something which I came to grasp as my own. It's this mixture of realism and surrealism where I try to give every piece a whimsical touch and give it a layered feel. I also have a lot of influences that really contributed to what my art style is today. Like Vincent Van Gogh, Hayao Miyazaki, CLAMP, Tetsuya Nomura, and more recently, an artist from deviantart called koyamori.
Simini:
It's been a gradual change, as I continue to learn and practice and absorb other influences. Something that's changed in the past couple years though- I felt very self-conscious about letting my work be too girly or feminine, even though I enjoy those things. Like, I felt I would be more respected drawing an action scene, or something philosophical and moody, then say, a kissing scene. And while I do love drawing the "Strong Female Protagonists," I also love romance, and bright colors, and cute things- and they aren't inherently any less "strong" or less respectable! So at some point I decided to embrace it, do what I love instead of what I think certain circles will appreciate. And I enjoy illustration so much more because of it! And I think that comes through in my style, where it maybe didn't before.
Which is your favourite piece from your own work? Tell us about it.
Andiree:
My favorite piece was a drawing inspired by the song "Sweat Weather" by the Neighbourhood. It's not of any two particular people, but I depicted them in a close kind of entanglement. The drawing is in black and white because that is a notable characteristic of the band's aesthetic. It's one of the few drawings that I find no regrets for.
Lauren:
This one's hard. Because sometimes I feel like a lot of the works I love the most can be found in my doodle notebook. The raw, unfinished artworks are gold to me. But I will have to say that my favourite piece right now is the one I call "The Prisoner and the Thief."
This piece was totally unexpected. It turned out the opposite of what I had in mind, and the way it worked surprised me. The inspiration for it came from a contest held on deviantART. The goal was to create an artwork that blends steampunk with medieval. So this is what I came up with. I grew to love these characters, and hopefully I can draw more of them in the future. Maybe even write a story.
I love how it captures a certain atmosphere and feeling that cannot be seen in my other works. And this, coming from an acrylic painting, a medium I'm not yet comfortable with, warms my heart.
Simini:
It's hard to pick a favorite piece. They all do different things and there are definitely some personal experiences/memories attached to a lot of them. And I tend to be quite a harsh critic when a look back at work even a few days after finishing it. Always room for improvement! But I have enjoyed doing these illustrated quotes for
Goodreads
. As discussed above, I'm a big fan of books, and I loved the quote they assigned for this one- sums up my favorite aspect of reading. They asked for a bit of a different style for than I normally do, as well as a limited palette, which was a change from my normal painting experience. I was pretty happy with how it came out.
The Prisoner and The Thief by Lauren (source)
Do you make fanart for any other books/movies/TV shows?
Andiree:
As much as I love Rainbow's books, I love a lot of other books, too. And shows, and movies. I've drawn TONS of fan art for Percy Jackson, The Summer I Turned Pretty, and Harry Potter. I've also drawn some for Vampire Academy and Shiver--I draw lots for books, basically. There's a bit less in regard to TV/movies; I just draw whatever I'm hooked on. Some shows and movies I make art for are Disney movies, Scandal, The Amazing Spiderman, and Gatsby.
Lauren:
I've been drawing fanart since I was little. Mostly anime and cartoon shows like Magic Knight Rayearth, Yu Yu Hakusho, and Powerpuff Girls. In high school, I started expanding and drawing for video games like Ragnarok Online and Final Fantasy. And then I became addicted to books and my Harry Potter and the Hunger Games fanart kept coming. I always go back to drawing Harry Potter when I feel stuck. It's become my comfort zone. I've also made some art for Doctor Who (which is my all-time favourite show) but I've never really shown them to people. Most are just doodles anyway.
What is your creative process like? How long does it take you to do one piece?
Andiree:
My creative process is pretty much just me sitting and listening to music and letting scenes roll through my head. I have a playlist for almost every book I've read, and it's these songs that really push fan art out of me. It just brings out emotions I wasn't aware I had for certain characters. It takes at least two hours to do a fully drawn and colored piece digitally; it takes more time if it's traditional.
Lauren:
On average, I would say it takes me about two days per piece. But really, it's different for each one. Sometimes, when an idea hits me, I pick up my doodle notebook and put down my initial thoughts before deciding if it's worth working on a bigger scale. Sometimes I go straight to my watercolour pad and it just flows. But I always, always start with a basic pencil draft.
So my process is I start with a pencil sketch, and then I coat the whole picture with a light stroke of watercolour as my base. Then I decide whether to use watercolour all the way through or use other mediums as well. But you know what? I always end up using mixed media anyway. My usual combination is pencil, watercolour, and acrylic.
Inspired by Sweater Weather by the Neighborhood (source)
What's the coolest art tip you've ever received?
Andiree:
I can't really think of any advice given to me, but ONCE I accidentally spilled my aunt's beer on a bunch of my acrylic paintings and I was freaking out but my uncle just said, "Hon, that stuff is like plastic when its dry. No beer is gonna soil your acrylic." He was right.
Lauren:
The coolest tip I've ever received is also the most simple one: keep drawing. My freehand drawing professor in college told our class back then that there's no real secret in being good at drawing. You just do it. Bring a sketchpad wherever you go and draw what you see or what you think about at present. That's it.
Simini:
"Don't be too precious with your work." In other words, don't be afraid to fail, and don't put your work on a pedestal.
I love your art! Where a can I find more of it?
Andiree:
THANKS! My art can mainly be found at
andiree.tumblr.com
and
andiree.deviantart.com
, and I post occasional sketch on Instagram (
@andireeee
)
Lauren:
Thank you. My most accessible website is my Tumblr, but I also have a deviantART page, albeit not a very active one. Both of these sites are relatively new (not even a year old) so I don't have a lot of artwork on them, but the recent ones are there. The addresses are as follows:
laurenbaldoart.tumblr.com
, and
macklauren.deviantart.com
. For personal and/or business concerns, you can contact me at
lauren.baldo@gmail.com
.
Simini:
My portfolio website is
siminiblocker.com
, most recent artwork and updates on tumblr at
siminiblocker.tumblr.com
. You can buy prints of my work on society6:
http://society6.com/siminiblocker/prints
. I'm also on twitter
@siminiblocker
, and sometimes I post work-in-progress images (along with copious chatter about whatever show I'm netflixing in the background while I work, I'm sure). Twitter is one of the best places to contact me with non-work inquiries (quicker response!), or email me at
siminib@gmail.com
.
---
And those, my dear readers, are few of the amazing people who go beyond the pages of a book to see things that we mere mortals cannot. I hope you had fun reading about them and gazing at their art for long periods of time.
Let's Talk About This:
Woah. This is one long post.
Remember how I said at the beginning that I wasn't sure whether I should do interviews like these or just feature art on different themes? Like pick a book and feature some great fan art on it? I'm still not sure about that. Right now, I'm thinking about alternating between the two. What do you think I should do? What would you like to see?
And obviously, interviewing one person at a time would be better, but I kind of wanted something a little special for my first time, which is why I got
these
artists together.
So... Tell me, tell me, tell me!
What do you think about the new feature? Do you like the idea of featuring bookish fan art?
What do you want to see next? Do you have any requests for theme posts?
Sound off in the comments!