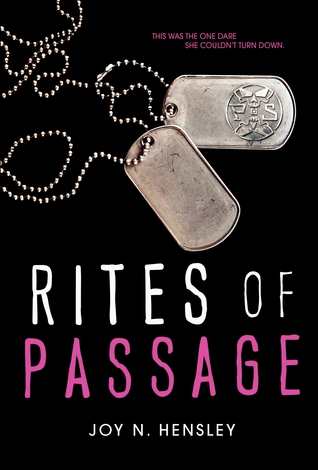 Title:
Rites of Passage
Author:
Joy N Hensley
Publication date:
September 9, 2014
Publisher:
HarperTeen (HarperCollins)
Genre:
YA, Comtemporary
Rating:
Sam McKenna's never turned down a dare. And she's not going to start with the last one her brother gave her before he died.

So Sam joins the first-ever class of girls at the prestigious Denmark Military Academy. She's expecting push-ups and long runs, rope climbing and mud-crawling. As a military brat, she can handle an obstacle course just as well as the boys. She's even expecting the hostility she gets from some of the cadets who don't think girls belong there. What she's not expecting is her fiery attraction to her drill sergeant. But dating is strictly forbidden and Sam won't risk her future, or the dare, on something so petty...no matter how much she wants him.

As Sam struggles to prove herself, she discovers that some of the boys don't just want her gone—they will stop at nothing to drive her out. When their petty threats turn to brutal hazing, bleeding into every corner of her life, she realizes they are not acting alone. A decades-old secret society is alive and active… and determined to force her out.

At any cost.

Now time's running short. Sam must decide who she can trust...and choosing the wrong person could have deadly consequences.
Do you guys remember the Disney movie Cadet Kelly? That real feel good movie with Hilary Duff? That was the first thing that came to mind when I read Rites of Passage's blurb, and also a huge motivator towards requesting this book. And guess what? There actually
is
a Cadet Kelley in the story! How cool is that?
Sam is a military brat. Having been brought up with two brothers and a father in a top position in the military, she's always grown up with the dream to someday become like her father. All three men in her family have gone to Denmark Military Academy, but the academy doesn't accept any female students. So when her brother Amos issues a dare for her to study there, she doesn't take it seriously, since its impossible. But then, when within a year, Amos commits suicides, and the DMA opens its gates to female students, Sam knows she cant give up this opportunity to complete her brother's last dare. But what she doesn't realise is that there is an underground society that has sworn to weed out students they don't believe worthy of the school, and in their books, a girl has no place at DMA.
One feature that really stands out in Rites of Passage is how the author has built up
the atmosphere of a military school.
It is incredibly detailed (to the extent of excessive usage of acronyms that I didn't understand, but I didn't really mind), with everything from the exercises to the manner of speaking spot on. I wasn't surprised to read that Hensley herself went to military school... on a dare, of all things.
But what really hits hard in this story is the integral part that hazing plays in it. When it first started, I didn't really think it a big deal, assuming this was normal in military schools, which are well known for pushing one to the limit. But then, it started getting worse, with the perpetrators resorting to actual shooting, brutal beatings and kicks, and even murder. It got to point where
I was wondering where in hell all the adults in the school were!
The scant few who were around themselves seemed afraid of the students! And all for what? To get the girl to quit.
Although I have some bones to pick about the way the story itself was presented to the reader, it is important to note that the manner in which Hensley has woven in a socially relevant and crucial topic into the story,
makes one really engage in some serious contemplation,
while at the same time not shoving the issue down one's throat. There is the immediate issue of ostracism of girls, and on a larger scale, bullying in general. It's been a few days now since I finished reading the book, and I'm still thinking about it.
For Sam as a character I didn't feel anything in particular. I felt like there was so much constantly happening, that
I didn't really get to know her as a person
- her motivations, her family... It was very obvious that there is something huge going on with her family... you can feel the undercurrents, but there's practically like, three things said about her family in the whole story. Amos's death, and her relationship with her parents are big players in her life, but we don't get to explore that side of things at all, and I wish we could have. Also, FYI, I didn't have a problem with this, but I just thought it's worth mentioning for future readers that the romance is not such a big part of the plot like the blurb suggests.
I'm also not a big fan of the ending. It felt very inconclusive, and some of those who were the culprits just went scot-free. As of now, Rites of Passage is still a standalone novel, but with the ending, I wouldn't be surprised if they decided to make it a series.
BOTTOMLINE:
It could do with some polishing, but it's authentic setting and unflinching portrayal of hazing make Rites of Passage worth a read.
My Life in Books:
As an Army brat, I 100% love this book!
Books of Amber:
I didn't find her enticing at all, although I did appreciate at least some of her characterisation, like how she suffered under the rule of her military father and, later on, her fellow students at the military school, and how she still held her ground.
Dana Square:
I really enjoyed the twists and turns of this novel. It wasn't too predictable.
HOLDING QUOTE:
Everyone makes choices about how they live their lives, the way they're going to move toward success. You have chosen an honorable route. Honorable people, people of character and moral uprightness, can be intimidating.