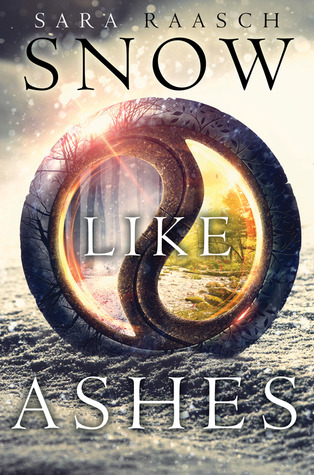 Title:
Snow Like Ashes (Snow Like Ashes, #1)
Author:
Sara Raasch
Publication date:
October 14, 2014
Publisher:
Balzer + Bray (HarperCollins)
Genre:
YA, Fantasy
Rating:
A heartbroken girl. A fierce warrior. A hero in the making.

Sixteen years ago the Kingdom of Winter was conquered and its citizens enslaved, leaving them without magic or a monarch. Now, the Winterians' only hope for freedom is the eight survivors who managed to escape, and who have been waiting for the opportunity to steal back Winter's magic and rebuild the kingdom ever since.

Orphaned as an infant during Winter's defeat, Meira has lived her whole life as a refugee, raised by the Winterians' general, Sir. Training to be a warrior—and desperately in love with her best friend, and future king, Mather — she would do anything to help her kingdom rise to power again.

So when scouts discover the location of the ancient locket that can restore Winter's magic, Meira decides to go after it herself. Finally, she's scaling towers, fighting enemy soldiers, and serving her kingdom just as she's always dreamed she would. But the mission doesn't go as planned, and Meira soon finds herself thrust into a world of evil magic and dangerous politics – and ultimately comes to realize that her destiny is not, never has been, her own.
Do you know, originally, I had no intentions of reading this book.
I love high fantasy, and owing to my intolerance for anything short of amazing (when it comes to this genre), I don't start a fantasy series until I've heard/seen several positive reviews. Soon after Snow Like Ashes was uploaded on Edelweiss, I started hearing good things about it on almost all my feeds. A couple of weeks later, I caved and downloaded a copy.
Snow Like Ashes is set in Primoria, a land divided into eight kingdoms - four Rhythm kingdoms and four Season kingdoms. Seasons, as you've probably already realised, play a major role in this story. The Season kingdoms are each named for the season that they experience predominantly, all throughout the year; Rhythm kingdoms have no such curiosity. In Primoria, magic is wielded by the powerful - those who were born to lead, through conduits that they pass on along the generations. Sixteen years ago, King Angra of Spring attacked Winter, shattered their conduit, murdered their Queen, and wiped out all of Winter, save twenty five refugees who fled with the heir, Mather. Their number has now dwindled to eight, and includes Meira, an orphan who was rescued during the escape from Winter. The survivors have vowed to restore Winter's rightful heir to his seat, no matter the danger.
One thing about this book that everyone has taken notice of is
the world building, and it is remarkable.
Although at first I did feel like the basic concept of the world was a little too simple, I must admit that as I delved more into Primoria, the underlying layers and the atmospheric storytelling drew me in, making it evident that Raasch is a great world builder.
But that is not to say that I was equally impressed with the story itself.
Some elements were just so
clich

é

d
- ones that are common in several fantasy novels. There were parts where I felt like the characters acted utterly illogically. For instance, when Meira and another fugitive are fleeing Winter, they don't even bother to keep an eye out for pursuers. I mean, for a girl who's been training all her life to be a warrior, isn't this elementary? And then, let's take the love triangle that raises its head - ugh! I have no love for love triangles, and the fact that what Meira feels for Mather comes across more like puppy love than anything else, along with how Mather himself is no big prize, just made the entire thing feel extraneous. And please let's not even talk about
the 'big twist' which I figured out when I was like, 15% into the book.
As for the characters... Meira has some obvious flaws in her in terms of development and her exasperating way of repeatedly whining about some higher, abstract purpose instead of being in the present. However, by the end of the story,
she kind of grows on you.
Especially towards the end, when she sort of comes into her own, and becomes who she was meant to be - a fighter. Of the two central male characters,
Theron was more to my liking.
He is genuinely a nice person to Meira, despite their awkward circumstance, and I was impressed with how he stood up to his father - some real backbone there.
However, despite its faults, Snow Like Ashes manages to redeem itself to an extent in the last third of the story. The plot picks up pace considerably, and the newly added elements add some depth to the storyline, making it a much more exciting read. As I came to the close, I found myself curious to know what happens next in Meira's story, though I dont think I'll be queuing up on its release date.
BOTTOMLINE:
All in all, Snow Like Ashes looks like the beginning of an interesting new series, although it remains to be seen whether or not it will stand its own when pitched against others in its genre.
The Daily Prophecy:
I can't say I highly disliked it, mainly because of the quick writing-style, the world-building and Theron.
Artsy Musings of A Bibliophile:
...Snow Like Ashes, a highly immersive fantasy which left me feeling exhilarated from the get-go.
Books of Amber:
Snow Like Ashes is a decent fantasy debut, although Raasch fails to flesh it out enough to satisfy me.
HOLDING QUOTE:
"There will always be a they in your new life, Meira. They make decisions; they mold your future. The trick is to find a way to still be you through it all."
Someday we will be more than words in the dark.
"Even the strongest blizzard starts with a single snowflake."