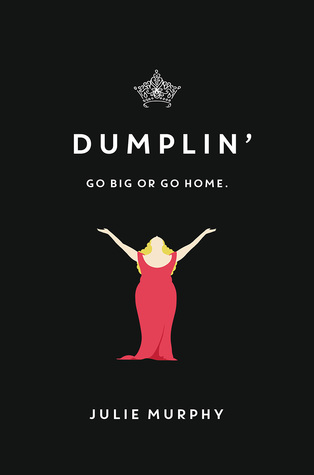 Title:
Dumplin'
Author:
Julie Murphy
Publication date:
September 15, 2015
Publisher:
Balzer + Bray (HarperCollins)
Genre:
YA, Contemporary
Rating:
Self-proclaimed fat girl Willowdean Dickson (dubbed "Dumplin'" by her former beauty queen mom) has always been at home in her own skin. Her thoughts on having the ultimate bikini body? Put a bikini on your body. With her all-American beauty best friend, Ellen, by her side, things have always worked . . . until Will takes a job at Harpy's, the local fast-food joint. There she meets Private School Bo, a hot former jock. Will isn't surprised to find herself attracted to Bo. But she is surprised when he seems to like her back.

Instead of finding new heights of self-assurance in her relationship with Bo, Will starts to doubt herself. So she sets out to take back her confidence by doing the most horrifying thing she can imagine: entering the Miss Clover City beauty pageant—along with several other unlikely candidates—to show the world that she deserves to be up there as much as any twiggy girl does. Along the way, she'll shock the hell out of Clover City—and maybe herself most of all.

With starry Texas nights, red candy suckers, Dolly Parton songs, and a wildly unforgettable heroine— Dumplin' is guaranteed to steal your heart.
Five Things You Should Know About Dumplin'
Willowdean is a terrific MC.
Recently, I've been studying up a lot on the psychology of heroism, and one thing that these real life heroes have in common is that they don't see themselves as heroes at all. They don't see anything extraordinary in their actions. Will is a lot like this. She doesn't see herself as someone worthy of emulation, not because of low self-esteem, but simply because. Despite sticking up for the other fat, ostracised girls at school, motivating others to join the pageant with her, and loving her body, Will doesn't see anything remarkable in those things. She sees herself as just another girl who is struggling with her aunt's death, her drifting best friend, and a mother who (she feels) wishes she had a more 'pageant worthy' body.

I loved Will's confidence. I've had a front row seat to the struggles that fat girls go through, be it with their own bodies, or with the people around them (and most times even their own families), and I know how difficult it can be to embrace yourself wholeheartedly when you're in such a situation. Will does this, and I couldn't be any prouder of her.


Perfection is no more than a phantom shadow we're all chasing.

Granted, there are parts where I wanted to shake her a bit, but hey, nobody's perfect.


Everyone - fat, thin, or in between, should read Dumplin'.
I see Will becoming a role model for fat girls everywhere. This is one of those empowering books that are just so feel good and revelatory. You get such positive vibes from this story, be it about positive body image, loving yourself, or fangirling over inspirational celebrities. For instance, I learnt something - 'fat' is not a bad word or an insult, and we need to stop thinking of it as one.


The word fat makes people uncomfortable. But when you see me, the first thing you notice is my body. And my body is fat. Its like how I notice some girls have big boobs or shiny hair or knobby knees. Those things are okay to say. But the word fat, the one that best describes me, makes lips frown and cheeks lose their colour. But that's me. I'm fat. It's not a cuss word. It's not an insult.

The secondary characters are unique and wonderful.
Millie, Amanda and Hannah are each great characters who make a space for themselves in the story. You learn something from each of them: to be cheerful in the face of contention, to not give a damn about what people think about you, and so much more. Hannah was by far my favourite character, with her snark and devil may care attitude. I loved how we get to see her softer side later on in the story. Basically, I really loved the strong female friendships in this book.
El, Will's best friend is great most times, and kind of not great sometimes, and that's pretty much all that struck me about her.
I was leery of Bo (Will's love interest) at first, but he really won me over in the second half of the story.


It has a baby love triangle.
I am not and will never be a fan of love triangles. Nope. Sorry. Which is why I wasn't a fan of the one in Dumplin'. I call it a 'baby' love triangle, though, because its kind of obvious who Will is going to choose in the end. However, she strings along this real sweetheart of a guy who genuinely likes her, and I wasn't very okay with that.


Can this please be made into a movie? I was just googling this, & IT IS GOING TO BE MADE INTO A MOVIE!
I usually never, ever say this for any book, because Hollywood just messes things ups (Harry Potter and LOTR were exceptions). But can you imagine how this book would be as a movie? IT WOULD BE PERFECT!!! With the witty banter and country sass for dialogue, the pageant for pretty visuals, and the positive messages providing truckloads of inspirational value, what more could you ask for?
Bottomline:
A graceful, honest, beautifully written book that celebrates fatness, and self worth (which includes loving one's body).
FROM AROUND THE BLOGOSPHERE
Words Read & Written:
I do think confidence and self-worth are really important themes, but sometimes Dumplin' felt a little preachy.
Ageless Page Reviews:
Not only is she a self-proclaimed fat girl but Willow doesn't spend the book's 384 pages trying to lose that weight.
Holding Quote:
All my life I've had a body worth commenting on and if living in my skin has taught me anything it's that if it's not your body, it's not yours to comment on. Fat. Skinny. Short. Tall. It doesn't matter.
You don't always have to win a pageant to wear a crown.
There's some kind of peace that comes with knowing that for every person who is waiting to be found, there's someone out there searching.
I was so scared that all the big things I wanted would never be anything more than wants.
Sometimes figuring out who you are means understanding that we are a mosaic of experiences. I'm Dumplin'. And Will and Willowdean. I'm fat. I'm happy. I'm insecure. I'm bold.